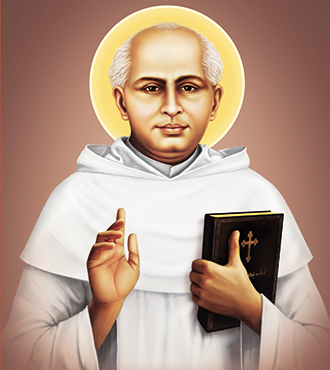 Saint Kuriakose Elias Chavara, a great religious, social and educational reformer of Kerala, in the 19th century. He could foresee the changes in the environment and make strategic moves to build up a better society based on fatherhood of God and brotherhood of humanity.
He founded the CMI (Carmelites of Mary Immaculate) Congregation, a group of men, who are committed to the same vision and mission.
Saint Kuriakose Elias Chavara was a saintly figure who lived in the 19th century. He founded a religious congregation named CMI (Carmelites of Mary Immaculate) with two of his companions. Chavara's vision, mission and service evolved as a result of the intense God experience and passionate involvement in the society.
 Kerala State was in the grip of a social plague called discrimination on the basis of caste and colour in the 19th century. Education was the remedy that Chavara thought of as an antidote to this social malady in order to open the eyes, minds and hearts of the people. He started a Sanskrit school at Mannanam. Children of high caste and low caste, Christians, Hindus, and Muslims were admitted to the school.
It was a social work-shop that worked towards the transformation and renewal of the society. His farsightedness, sense of equality, brotherhood, freedom, integral vision of development of the society were seeds of an impending social transformation. This vision and mission of education is the driving force that inspired the apostolate of education undertaken by the CMI fathers who run Mount Carmel School.